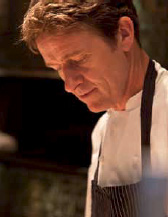 Andrew Richardson
Executive Chef
One of Canada's finest chefs, Andrew is a native of Newcastle, England, and graduated from Manchester Metropolitan University with a Bachelor of Science with honours in Hotel and Catering Management.

He began his cooking career as sous chef under Chef Terence Laybourne at the Michelin-starred 21 Queen Street in Newcastle, and later as Head Chef at sister restaurant Brasserie 21, which received the Michelin Bib Gourmand rating.

Andrew moved to Vancouver in 1999 and was actively involved in the opening of Cioppino's as Executive Sous Chef, and then, took up the same role at West. He further honed his skills at Sooke Harbour House and the Carter House Inn in Northern California before accepting the Executive Chef role at Whistler's Araxi. He later returned to Newcastle to open Laybourne's Jesmond Dene House Hotel, performed an extended stage at The French Laundry, and then moved to Calgary to open the top-rated Blink as part owner.

Richardson said, "I believe in simplicity, and the interaction of absolutely prime ingredients on the plate—the passionata, as the Italians say. Less is often more, especially in Italian cookery.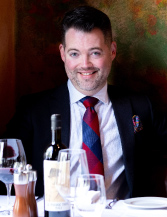 SHANE TAYLOR
Wine Director
A native of Prince Edward Island, Shane is a graduate of the Atlantic Tourism and Hospitality Institute and holds the WSET Diploma in Wine and Spirits.

Shane's early days were spent at the Relais Gourmand White Barn Inn in Kennebunkport, Maine. In the U.K., he served at Glenapp Castle and Chapter One, both Michelin-starred, before moving to Canada in 2005 to join Araxi. In 2008, he became Assistant Wine Director of another sister restaurant, Blue Water Cafe.

Now the consummate host and Wine Director for CinCin Ristorante, Shane won the third annual Canadian Association of Professional Sommeliers (CAPS) BC Sommelier of the Year for 2017. This rigorous competition saw Shane vie with fifteen other finalists in front of a panel of demanding judges to achieve this very significant distinction.

"This is my passion, and there is a tale to be told in every bottle," he says. I always enjoy sharing with our guests the story behind the wine they are drinking and pairing them with Chef Andrew Richardson's brilliant contemporary Italian cuisine."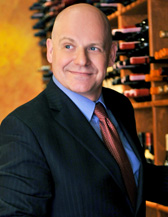 JAMIE LAUDER
Assistant Wine Director
A native of Ontario, Jamie moved to Vancouver in 1996 and "instantly fell in love with the city." He studied through the Wine & Spirit Education Trust, completing his Advanced Certificate before presenting his credentials at CinCin in 2002, where he has remained to this day.

One of Vancouver's most popular service professionals, with a wide following of regular guests, Jamie went on to complete his Certified Sommelier degree from the International Sommelier Guild.

Jamie and his wife Sachiko travel frequently, especially to her native Japan, where he admits to an ever-growing fondness for sake and Japanese cuisine. But his chief passion remains rooted in seeing the enjoyment of the guests he serves, and introducing them to "ideal wine and food pairings, on any budget, that truly improves their experience." In 2013, Jamie was recognized with the "Premier Crew Service Award" at the Vancouver Magazine Restaurant Awards.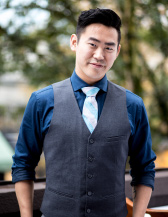 SHION FUJITA
Bar Manager
Shion is a Certified Specialist of Spirits from the Society of Wine Educators, who truly enjoys engaging his guests over CinCin's famous downtown bar. He worked in a number of service capacities at Vancouver-area restaurants before returning to CinCin in 2015, where he has been mentored by some of the city's finest bartenders.

His enthusiasm for his new position is infectious and Shion strives to mix it up by drawing on his Japanese lineage. "The cocktail culture in Japan is a little different," he says. "It's a gateway to a different world, and when you enter all of your day-to-day worries should disappear." And with every evening, Shion's finesse with his cocktails and wine recommendations for his guests ensures that is exactly so.